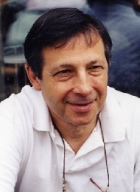 Bob Paige was born in Brooklyn, New York. He has a diploma from Cooper Union, a BFA from the Philadelphia College of Art, and an MFA from Yale University.
As an art student in the '50's and '60's, he followed the then current trend in art,
Abstract Expressionism
, doing lots of big, splashy, gestural paintings. It was later, during his first teaching job, at the University of Texas at El Paso, that he found his artistic 'voice' by looking hard at and trying to capture the beauty of some paper flowers in a vase. From that point on, through a series of periods, one thing remained constant. His paintings and drawings have always been based on the 'sight seen.' That is: they are
perceptual
.
His work evolved from expressionistic portraits in the late '60's to finely detailed small still-lifes, and in the mid-seventies burgeoned into the large
'Fruit and Flower'
oils represented here. Through the '80's he painted several series of
large
still-lifes
in
watercolor
and after a detour into a group of
archetypal figures
, he became engaged in the '90's with
pencil drawings
that recreate the intimate world of people and furniture inhabiting his living spaces.
More can be learned about his work and life, in his memoir
The Sea of Art: A Memoir of an Artist.